First posted October 12, 2018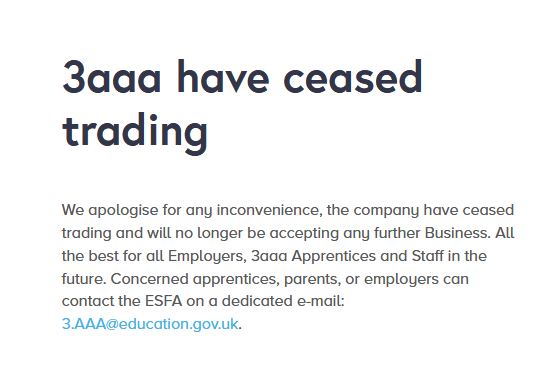 Note: I am not a journalist. I'm just trying to understand what happened to my apprenticeship provider by going through a years worth of TES articles. This has been my week.
28 Febuary
Unnamed former employee raises concerns via letter to their management. There is an employment tribunal. [feweek]. Co-founder says this lead to an "internal review" and the concerns got referred to the ESFA (Education & Skills Funding Agency).
April
I start an apprenticeship with 3aaa.
May
Ofstead inspects 3aaa. Their report is expected to be released in July.
June
3aaa expects a grade 1 from their Ofstead inspection. They were rated overall "outstanding" last time they were assessed in 2014.
20th June
Ofstead says everything from it's May inspection looks fine.
28th June
Ofstead annonces their inspection to be incomplete. [feweek][feweek]
"Given new information that has come to light, we have decided to declare our inspection of Aspire Achieve Advance Limited incomplete," a spokesperson for Ofstead said.

"In due course, pending further information from the EFSA, we will decide whether we need to return to the provider to gather further evidence."

6th July

Turns out there were claims made by a whistleblower. [feweek]"

13th July

DfE orders independent investigation into ESFA over 3aaa contract management. [feweek]"

I don't understand what that means.

17th September

The co-founders of 3aaa resigned during the investigation. [feweek]

18th September

3aaa forced to stop recruiting new apprentices following ESFA investigation [feweek]

Education and Skills Funding Agency investigation is ongoing and the recruitment ban is expected to go on as long as the investigation does. 3aaa spokesperson expects that will be in November. Stopping apprentice recruiting means less money coming in.

11th October

ESFA terminates contracts with 3aaa [tes]

Last year 3aaa got £31 million from government funding through ESFA. My employers pay less for me as the government were supplementing my education. After this funding is withdrawn:

3aaa enters administrationp>

In a statement, 3aaa said: "The ESFA confirmed there would be no further progress payments for Learners on Programme. This immediately removes the ability for the company to continue to operate.

"This affects the employees, apprentices and clients with whom 3aaa has a relationship and to whom each employer of the apprentice must now determine with whom they wish the apprentice learning should take place in the future.

"The new management had hoped that the ESFA would have allowed it to have transferred the business to another qualified operator or in the worst case arranged an orderly closure of the business. The ESFA has opted not to allow that to happen so, in these extreme circumstances, the directors have no option but to take this course following this ESFA decision."

DfE refers 3aaa investigation to the police. [tes]

A Department for Education spokesperson said: "We have terminated our contracts with 3aaa. Our priority now is to find new training providers as quickly as possible for the affected learners.

"We have put a specialist team in place to identify new providers and help learners with as little disruption as possible. Following our investigation, we have referred our findings to the police, through Action Fraud.

"We will look very carefully at what lessons can be learned as a result of this investigation."

The ESFA said concerned apprentices, parents, or employers can e-mail: 3.AAA@education.gov.uk