Or, the drinks I noticed in a couple of days in the capital then a week in campsites and rural bars…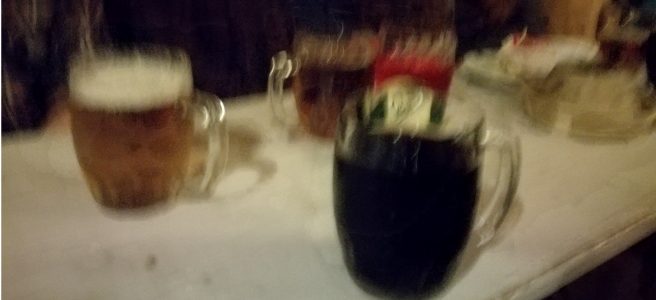 "
I don't drink much but when I do it's rum & coke. Handy that this is what people bring canoeing. Watching people prepare for a day on the water involves seeing them fill a third of the bottle with rum. People share between boats and the locals make them strong.
The beer is cheap and weak. Maybe £1.20 per half litre. Handy when people are drinking a lot of it. Most beers are cheaper than the soft drinks I pick.
I'm just writing what I have seen and heard. I've tried to fact check but information is often limited.
Nealko
You can get the standard international drinks. Cola and fruit juice. But what's the point of going abroad if you have the same old thing.
My drink of choice is Malinovka. A raspberry soda available at half the places we visited. Malina, raspberry, was one of the few words I remembered from last year. "Jedna velka malinovka, prossim (one big malinovka, please).
Kofola has a similar origin story to Fanta, as it became popular in communist Czechoslovakia when other western drinks were not available. Made from a byproduct of coffee roasting, herbs, and fruit extracts with less sugar and more caffeine than pepsi/coke. I don't like coffee and I don't like Kofola. One of our group described the taste as "dandelion and burdock made wrong."
There's often a selection of Flavored Waters in shops. Familiar flavours like lemon are there but also a white grape that tastes like more than that.
A homemade Lemonade would sometimes crop up on the menu. Not too sweet and with seeds left in. A blessing in the heat.
We also got Kokoa in some of the campsites. A rich and dense hot chocolate. Small portions made up for by strength and warmth on rainy days.
Spirits & Mixed
Before my first visit I hear a lot about the Rum. Except it's not always called rum. EU trade descriptions regulations state only drinks made of sugar-cane can be called rum. Czech rum is made from sugar-beets so has to be called Tuzemsky. Sometimes "inlander rum". It's served in shots of 35ml, not 25ml, or with a mixer.
We had quite a bit of Tuzemák both of an unknown brand and Božkov which has several flavoured varieties. The almond one is nice. We also encountered a combination of lemon juice and rum that was offered by some locals.
Popular in the winter, Grog is a mix of rum, hot water, lemon, cinnamon, and maybe sugar. Sure, it's warming but it's strange and weak and not for me.
I adore the strong plum brandy Silvovice. I came across a clear kind and a pale brown version. The brown one is honey sweet and much nicer. It's really quite strong. Apparently not uncommon for people to make their own. Similar drinks are made with pears.
Becherovka is a herbal liquor that tastes like a lot of things. Spices and cloves in a secret combination. It's described as medicinal and I was offered it when I was sick last year.
There is not just one bright green drink out here. There is: Peppermint Something! Intensly flavoured and neon green. "Careful, you can't taste it but it's strong."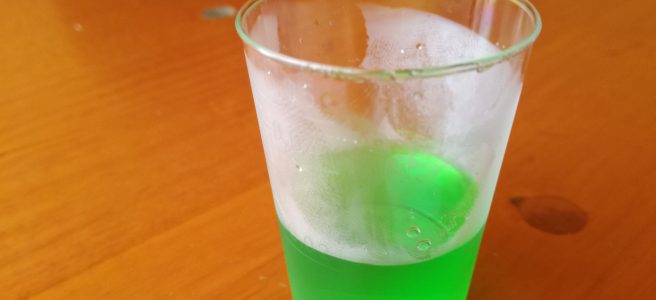 So Absinthe?
I tried the Absinth. We went to a bar in Prague with a terrific host who explained the history and gave us recommendations from their large menu. She told us how when the Czechs first started making Absinthe it was way too strong so they would burn some of the alcohol off.
"Do you all like anise?" no "…Well we have two options without"
I had the "Euphoria" as she listed it as the traditional Czech one. It was 70% and less than £5. I could smell the anise across the table.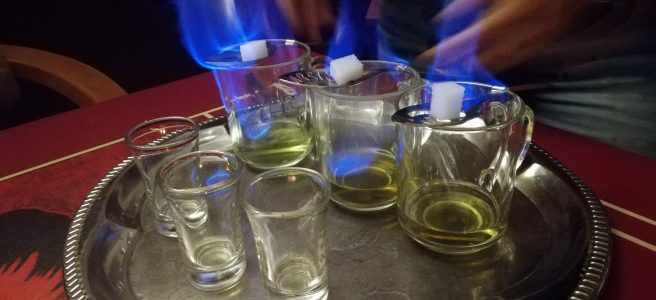 She brings over three shots and glasses. She explained the method as she poured the shot into the glass and dipped two sugar cubes in. One cube she placed on a saucer and set on fire. This would be a sweet thing to eat after the shot to reduce the after taste. The other cube stayed in the slotted spoon on top of the glass and she set that on fire. For the next minute she dipped the sugar spoon in to keep the fire going. Then she put the fire out with the saucer.
"Wait 30 seconds for it too cool and breathe out before you drink" I did that and it was awful. But I hate aniseed. We followed with a shot of Becherovka and went for a big meal.
Two of my friends had cocktails, maybe the smarter option. Later that night we had another shot in a club but that was just from a bottle.
Beer
Pivo means beer. That's about all I know. I don't drink beer but I can order it. The Czech Republic has the highest consumption of beer per person in the world. 30% more than the second highest and more than twice the UKs rate. It's hard to say when a normal Czech drinks as those I met were on holiday themselves. They started at 10am before getting on the water.
Most of the time the beer is local and a lager. Served with a large head in half litre glass. Signs feature the degrees of the beer. That's not the temperature it's served at or exactly the percentage alcohol. It's sort of the density. How much of the weight is made up of sucrose? A 10° is lighter than a 12° and also less alcoholic. Lighter is more popular.
Pilsner Urquell and Dudak were the most commonly available as we traveled through western and southen Bohemia.  Pilsner is from Plzen and Dudak from Strakonice, one of the places we paddled through.
Staropramen is from Prague. They have their brewery and tap right by the coach station. Nice little bar, perfectly tacky. They also make Cool, a grapefruit or lemon thing, in both 2% and 0% forms. It's light and fruity and not too sweet. There's even an elderflower or cucumber option if you are happy with nealko.
We also visited a fantastic pub in Prague called UFleků that only served it's own beer, Flekovský Tmavý Ležák,  alongside traditional food and shots of… there was a honey mead and something horrid. The quality of the Svickova (Beef in cream sauce we had gone there especially for) made up for the staff being rude to me for ordering a soft drink. Sometimes it's funny and sometimes it's, like, fuck of. This is the same nasty peer-pressure culture the UK has around alcohol.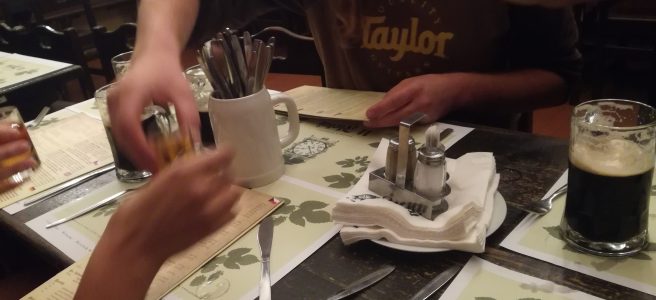 Kozel is brewed just south of Prague. Close enough bottles were sometimes available in campsite bars. Kozel means goat and apparently is quiet nice. Klosterman is a "mix between dark and light beer" produced by Dudak and favoured by the older members of the group. Pilsner also makes Gambrinus. I really know nothing of beer.
Wine
I mean it's on the menu sometimes but I've not seen it ordered. Sharing a border with Austria must mean they have some wine culture...